How a Personal Training Newsletter will Build your Brand
Posted by Steve Hochman on Thu. Nov. 15th, 2012
In fitness training your name is often your brand.  Online, the leading fitness experts are searched for by name rather than by any company name they may own.
So how can you keep your name at the forefront of your clients' and prospects' minds?  The key is to stay in touch with your list regularly, and a solid personal trainer marketing plan including fitness newsletters are a great way to gain and build brand recognition.
If you have a website or a blog and you don't have a lead capture page or opt-in box you're missing out on the most effective ways to capture qualified leads. If you do have an opt-in box but don't offer your visitors and clients a reason to stay subscribed, then it's a pointless exercise.
Being a fitness trainer probably means you're busy from dawn to dusk. Maybe the thought of writing scares you to death, or perhaps you have no clue what to say in a regular newsletter or most likely, you simply don't have the time to do it. What then?
One of the best personal training marketing strategies is sending out regular fitness newsletters. It's highly cost-effective and will bring a great return on investment, whether you do it yourself or you sign up for a service such as FitPro newsletter.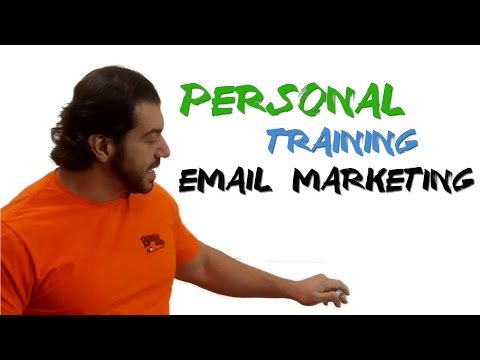 Let's look at the two options:
1.Do it yourself Fitness Newsletters
If you decide you do have the time and expertise to create your own fitness newsletters, that's great.  Here's what you'll need to do:
Plan what you're going to write about weeks ahead of time and make sure that information is relevant and up-to-date. Obviously your newsletter should contain tips and tricks on how to stay fit.
It should also offer help with nutritional and dietary guidance and offer insights into the use and effectiveness of a wide range of nutritional products and supplements. It should also contain a balanced mix of information that will appeal to professionals within the fitness industry and the prospective client who has yet to commit to a training program.
Next you will need to create, or pay someone to design, an attractive and easily navigable template for your newsletter. It must be visually appealing, so it will be recognized and read by all recipients.
Then you must decide how you're going to deliver your fitness newsletters reliably while staying within Can-Spam guidelines.  You'll need a reliable delivery system that will also track bounce rates i.e. those emails that are undeliverable or can't get through certain filters and one that offers meaningful statistics so you can see how you're doing.
Next you'll have to pay a writer or set aside time every week to research the articles you wish to include, and stay abreast of all the latest developments within the fitness industry. You're probably looking at a minimum of 8-10 hours a month writing and researching, if you plan to deliver your fitness newsletters monthly.
You'll also need to learn about effective copywriting, how to write articles that will be read from start to finish, and incorporate an effective lead capture page within your newsletter. No typos, spelling mistakes or boring articles allowed! Everything in your newsletter must be interesting and useful. You will also need to include original, professional quality, eye-catching photographs to keep your reader engaged.
Oh and you can't skip a month because you don't feel like doing it. Your fitness newsletters should go out on time without fail, and work for you 24/7 generating leads.
You're a fitness pro, so your personal training newsletter must reflect your knowledge, expertise and professionalism.
2. FitPro Newsletter – the Cost Effective alternative to DIY Fitness Newsletters
If you add up the time you'll dedicate to all that writing, research, thinking, and taking pictures it will make sound financial sense to sign up for FitPro Newsletter.
Monthly newsletters are okay, but imagine if you could send out a fitness newsletter every week. That's 4 times the lead generating power of a monthly newsletter and a considerable amount of time freed up that you can spend doing what you do best. You can even try it for 60 days free.
FitPro Newsletters are one of the most effective personal training marketing ever. No fuss, no worry. Your fitness newsletters will be the best in the industry, containing the most informative, well-written articles anyone could ask for. News, tips, menus all included. A newsletter that people will look forward to, delivered on time, all of which you can personalize to suit your particular market.
Spend your Time Cultivating New Relationships
If you're already running a fitness blog, you know how hard it is to keep up with it.  You're already adding information whenever you can, and even if you answer questions and comments by visitors via your smart phone, it can still be time-consuming.
But is has to be done.
Ignoring comments or responding days after they were posted translates to "I'm flaky" or "I couldn't be bothered" – even if that's simply not true.
Tell your visitors to sign up for the FitPro Newsletter and the time you spend on your blog will be greatly reduced. You can engage your audience regularly via the FitPro Newsletter with little effort, although they'll think all the work was all done by you!
If you don't participate on your blog regularly, you'll be missing out on leads. That makes no sense at all. You're potentially leaving money on the table.
What you'll notice about the FitPro Newsletter is that it isn't blatant advertising. That's not what sending out a high quality newsletter is all about. It's about engaging the prospect with useful and informative content and building trust.  You can then go on to send out an occasional promotional email to your list whenever you want – but not too often.
Fitness email marketing using FitPro Newsletter is possibly one of the most effective personal training marketing strategies there is. Use it for effective lead generation, keep in constant contact with your existing clients, and continue to stay in touch with others who have dropped out or have yet to make their minds up.
Posted in Boot Camp Marketing, Boot Camp Strategies, Fitness Marketing, Group Personal Training Strategies, Internet Marketing, Personal Training Business by Steve Hochman | No Comments Yet