Starting a Fitness Bootcamp Business
Posted by Steve Hochman on Tue. Sep. 17th, 2013
Fitness bootcamps are becoming enormously popular for a number of reasons. People can train with a friend or friends, at a time that's convenient for them and they can  even make new friends.  Being part of a group also helps keep attendance rates high, and of course a well-run boot camp is fun and very effective in delivering fast results.
If you've been in the personal training industry for any length of time, you're probably not earning what you want to earn just with a handful of one-on-one clients. If you've heard what many boot camp owners are making for the hours they work, no wonder you're looking into starting a series of boot camps of your own. I didn't even mention you can kiss your boss goodbye!
You can earn more, and spend the rest of the day doing what you want to do.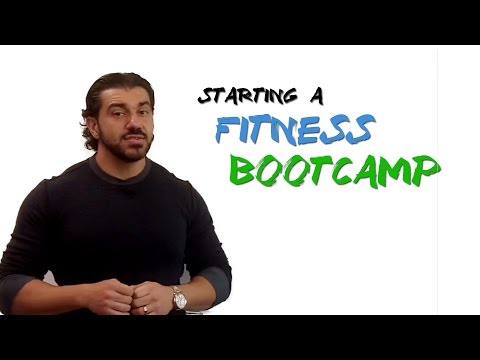 Location
Typically, most people think of boot camps as being held outdoors.  There are a few advantages, specifically you don't have to pay rent and you have no overheads.  That's great, until it snows or rains and your 6am class has to work out in the dark.  There's always the possibility the local authority that runs the park may changes its rules.
The alternative is to lease or sub-lease space.  Sub-leasing can be the most advantageous choice for those starting their first boot camps. Why? Because you don't have to invest a lot of money.
Typically, most gyms, cheer centers, martial arts centers etc., don't start as early as a boot camp business.  Many of them don't open until late morning; their facility is costing them rent even when it's idle.
Look for a facility that is willing to sublease space to you during those early hours.  Only sign a short term or month to month lease, because your plan will be to move into your own facility as soon as you have amassed the capital to do so.
The poor economy has seen a lot of businesses go under and that means property owners will be willing to work with you.  They may even build out a space exactly to your specifications, free of charge.
Build a Website or Blog
If you're still working for someone else, or you're able to manage on the earnings you get from your first boot camps, it's time to plan for the future.
One of the first things you should on in starting a fitness boot camp business is to set up a blog or website, and even if you have one for your personal training business, build a separate site.  If you've never built a website before, it's pretty simple these days, thanks to WordPress and you can build your site as a blog, or a website, or a mixture of both, it's up to you.
Register a good website address with the words boot camp in it, add the name of your town and you should find a unique, short and memorable name that you're going to put on everything, from business cards to advertising materials.
Add videos and articles regularly, and include testimonials from your existing clients, with their permission.  Link to similar websites that offer information you know your visitors will be interested in, but it must be relevant.  Google rewards websites and blogs for including links by raising the site's rank.
Google Places
Get on Google Places, so when someone puts in the search term "boot camp yourtown", all your information will appear, including a link back to your website, a description of your business, session times and of course, where you're located. That means guaranteed online, top-of-the-page visibility with your website offering lots more information for potential boot camp members to read.
Take the opportunity to grab new visitors' email addresses by offering something valuable free.  It could be a report, a money-saving coupon, or an invitation to a free Saturday boot camp.  Getting email addresses from the get-go is invaluable for marketing a fitness boot camp. You'll soon discover ways to build your email list quickly using other promotional methods, online and offline.
Don't ignore the other major search engines such as Bing and Yahoo, they also offer great opportunities to promote your website.
Day One
You're no doubt getting all excited about starting your own fitness bootcamp business, but who is going to be there on Day One?
Fitness bootcamps are all about high energy and excitement, and if you only have a couple of people at your first boot camps, everyone is going to be disappointed right?
What you should do is approach everyone you know who might be interested in getting fit and working out, and then offer them a killer deal for those first few weeks when your boot camp is starting up.
Tell them they can attend for the first six, eight, or ten weeks free of charge, and they'll get  the best workout experience they've ever had. All you ask of them is they spread the word, as soon as they start seeing results.
You'll have to ask a large number of people to do this, because the majority of them won't keep their side of the bargain. Out of 20 who volunteer, you'll be lucky if 5 or 6 actively promote your business, so when you make that initial agreement, six or 8 weeks free may be ideal.  The slackers will drop by the wayside while the fully functioning billboards can be offered another 6 or 8 weeks to work their magic and if anyone does outstanding promotion for you during those first few months, reward them well.
Another way to ensure you have a full room is not to run too many sessions in the beginning.  Ideally, boot camps start in the mornings at 5:30, 6:30 and around 9:30, while 6/6:30pm and 7/7:30pm sessions work best.
To start run just one in the morning and evening so your classes are as full as possible.  When your human billboards have attracted more sign-ups, that will be the time to start additional classes.  Of course, it also depends on the size of your facility – how many people the room can hold comfortably.
Systems
Running a successful business also means putting certain procedures in place right from the start, to save you time, money, and stress.
Collecting money automatically is essential, you don't want to have to chase down each member for payment at the end of every session and keep notes on bits of paper about who has and hasn't paid.
When people sign up, they should always pay by credit card so their membership fee is automatically paid every month.  There are a number of programs that will do this for you, such as Member Solutions If someone's payment is declined, the company will send out an email to resolve the problem, it's something you shouldn't have to deal with.
Starting a boot camp business will mean you can enjoy the lifestyle you've always wanted.
Posted in Boot Camp Business, Boot Camp Marketing, Boot Camp Strategies, Fitness Marketing, How To Start a Fitness Boot Camp Business by Steve Hochman | No Comments Yet