How to Market a Fitness Boot Camp in your Area
Posted by Steve Hochman on Mon. Feb. 11th, 2013
When you first start out as a fitness trainer, the chances are you're only going to start out with a couple of clients. Obviously the best way to build your client base is to get referrals. Word of mouth is the cheapest and most effective marketing you can ever hope for but it's probably not going to build your business fast enough to give you a decent income for the first few months.
Time to start marketing your fitness boot camp, so what are the most effective and cheapest ways to do that?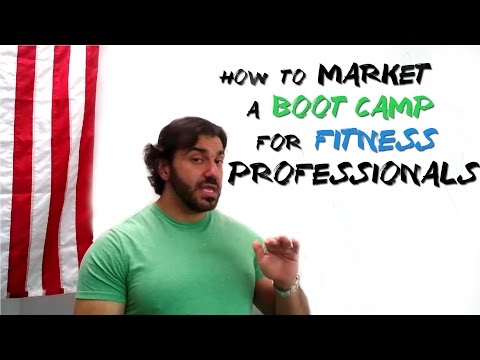 Free Saturday Boot Camp!
Let's face it, most people want something for nothing, and that's why the word Free should enter your marketing vocabulary.  Millions of people want to lose weight and get in shape, but they're overwhelmed by the choices they have, plus many are worried that if they shell out memberships and fees they're going to end up trying to do something they really don't like.
Sixty minutes of your time invested in a free boot camp session can be the best investment you can make.  Advertise your free boot camp throughout your neighborhood – and it doesn't matter how you do it.  Just make sure that word FREE is prominent in all your promotions. Hand out fliers, put signs on street poles if it's legal in your community and advertise on Craig's List – none of these will cost you a lot of money.  Stress the fun aspect of boot camps and tell people to bring a friend. One of the biggest fears for many is that they'll be all alone within a large group of people and feel lost. If someone calls to sign up, stress how much more fun it will be for them if they bring along a friend.  Just ask.
Free Content!
While you run the boot camp on those free Saturdays (or whatever day you like), have someone take pictures and/or videos of what's happening. Make the session fun and you'll have lots of smiling faces who will be only too pleased to see themselves on your website and FaceBook business page.  They'll share with other friends, more than likely those who also live locally, and you've set the ball in motion for creating a buzz about your boot camp and getting more people to sign up at little cost to you.
Of course you're not in the business of running free boot camps - you'd go broke if you can't convert those free attendees into paying clients. Make sure everyone signs up before the session. Get names, addresses, phone numbers, gender, age and an email address and have each person fill out a form asking why they were interested in coming to your boot camp.
If it's specifically to lose weight you can start an fitness email marketing campaign aimed specifically at those people and a different campaign for those who want to stay fit. Eventually you may be able to offer male only boot camps to one sector, and split your weight loss classes into age and gender so you can tailor your boot camps to everyone's needs.
Partner with Local Businesses
Small local businesses are always looking for low cost ways to market their products and services. Talk to local business owners and exchange cards and information.  Barber shops, beauty salons, health food stores are all great places to promote your business – but it isn't a one way street. If a business owner allows you to put up a sign or leave information, do something of equal or greater value for him.   You could include money off coupons for those businesses inside a welcome package when people sign up.
Know your Target Market
Effective fitness boot camp marketing should always begin with identifying your target audience and that also means finding out where those folks hang out.  With women, local beauty salons are always a good idea - you may be able to give a talk at a church or appeal to a male audience at social or golf clubs.  All you have to do is ask. Know your audience and give them exactly what they want.
Are there local manufacturing companies you could target? Business owners know that productivity is increased if their staff is fit. Offer to do a boot camp at the plant.
Don't forget your local gym either.  The owner may not offer fitness boot camps but if he has enough room, he may be open to allowing you to using part of his facility. Offer him 10% of each session's take (with a cap on the weekly amount of say $1000) and he'll be handing you the keys before you know it!
Local newspapers, TV and radio stations are always looking for interesting news. Start by sending a press release to the newspaper. Find out who the relevant journalist is, call him and ask if you can send him some information.  Tell him about your success stories and email a brief explanation of what a boot camp is all about (some people have never heard of them!) and pictures of people having fun at your camps.  The effect could be startling, so be prepared for an influx of business, especially if you can get an interview on local television.
You are a walking billboard for your business, so be honest, ethical and fair in all your business dealings. Let your enthusiasm shine and always put yourself second. You're there to help others achieve their goals, and only by doing that will you be able to achieve your own.
Posted in Boot Camp Marketing, Boot Camp Strategies, Fitness Marketing, Group Personal Training Strategies by Steve Hochman | 1 Comment