How to Sell Personal Training & Boot Camp Programs
Posted by Steve Hochman on Mon. Apr. 8th, 2013
If you're terrified of and don't know how to sell personal training, try this exercise. Next time you strike up a conversation with a stranger in a restaurant or supermarket line ask them if they've ever considered personal training or joining a boot camp.  Steering the conversation toward that question shouldn't be as hard as you think because you look incredibly fit, happy and healthy and they will naturally be curious as to how you do it.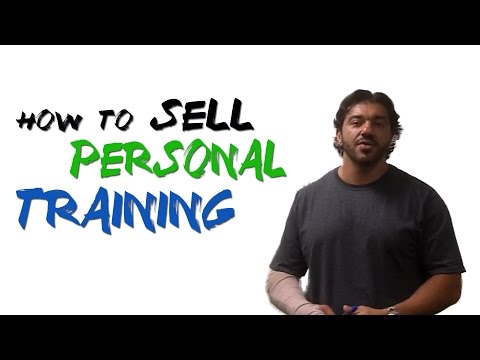 Now ask why they haven't joined a boot camp or seriously thought about personal training, and make a mental note of the excuses. These are the objections you will encounter all the time when you reach the point of closing a potential client.  Get used to these standard objections because you're going to have to work on ways to overcome them. I strongly recommend that you take a look at The Close Clients system as it is the best complete how to sell personal training system out there. The most common objections boil down to just a basic few:
I Can't Afford It
This is one I really like, especially if I'm in a supermarket line watching the receipt grow as gallons of soda, cookies and unhealthy garbage foods are being scanned.  Tell her for half of what she spent on all that unnecessary stuff, she could lose weight and have a lot of fun at a boot camp every week.
I tried that recently on one lady. Luckily she didn't punch me or cuss me out as I handed her a card. It made her think and take action. Three months later she was thanking me – 40lbs lighter – and handing me her best friend's phone number!
Can you afford to leave your children parentless? Can you afford to spend your life taking insulin injections, blood pressure medication or taking time off work because you feel like crap?
I can't afford it is the lamest excuse with a whole battery of responses. People have to be told the consequences of their inaction or they'll do nothing about it.  Your job is to teach and educate and get these people off their duffs.
There's no stock way to deal with the Can't Afford It objection – each potential client will differ and there may be a few who really can't afford to come to one boot camp a week. Do whatever it takes, even if it means offering free classes. When they start seeing results, all their friends will start seeing those results too, so use that as a gambit for getting referrals.
I Don't Have the Time
We all lead busy lives, but who can honestly say they don't have a spare couple of hours once a week? If the person you're trying to sell your services too states he's too exhausted to exercise that's perfect! Explain how much more energy he will have if he exercises regularly.  Hand him some information or direct him to a page on your website that explains in plain English why exercise increases metabolism and energy. Hand him your card and tell him to call if he has any questions. Again, it may take a few free classes to convince him.
This is what selling fitness is all about - finding a way to help the potential clients help themselves.
But how are you even going to get him to make the effort to come to those classes? See Building Relationships below.
My Partner won't like it
Good grief, this one is easy. No, you can't ask if her husband likes her looking fat and ugly – well not in so many words.  Talk about increasing libido with exercise – feeling better about yourself means many advantages – including a better sex life and having more energy.  Do a buy one get one free deal – tell her to bring her partner along to enjoy the classes for free. Or suggest she leaves him to watch college football on Saturday afternoon while she comes.
He's too old, I'm too old, I won't like it, I'll feel stupid – you'll get a whole bunch of excuses – and if you want to have a successful fitness business you're going to have to learn how to handle every excuse, even if it means going out of your way to help.  By learning the right questions to ask, closing becomes a lot easier. Listen carefully to most responses and the client will close herself!
The majority of your potential clients want to lose weight and start eating healthier  - they just can't break the habits of a lifetime of eating hamburgers, fried chicken and mashed potatoes! Get those people's email addresses and send them free healthy recipes every week in your newsletter. Offer free classes, limited time money off coupons and free phone consultations. She may not sign up today, but by building a relationship with her, the chances are one day she will.
Building Relationships
It takes one set of skills to sell boot camp memberships and another to keep those members coming back every week.  Again, you do that by building relationships.  Train yourself to remember people's names and their individual problems. Offer dietary help and free consultations.  Give prizes when people reach goals. Text or email people to remind them of their next boot camp time and get involved with their lives. If they reach a milestone, send a quick text to tell them "well done!" or ask the most successful members if you can feature them on your website.
Boot camps become more like social occasions for many people, especially those who don't get out much.  Have a Christmas party and offer healthy alternatives to the usual Holiday fare.  Send out birthday messages, and news about anything that can help them achieve their goals. Help your boot camp members build relationships with each other, by referring them to your FaceBook business page or blog.  With a good autoresponder service, a smart phone, a FaceBook page and an automatic scheduler a lot of things can be achieved with very little effort on your part.
You must show you care.
Do whatever you can do to accommodate your clients to keep them happy and coming back. They're guaranteed to tell their friends, so reward well for referrals. Make it all about THEM and YOU will quickly reap the rewards.
Posted in Boot Camp Marketing, Boot Camp Strategies, Closing and Sales Techniques by Steve Hochman | 1 Comment